Preventative Maintenance
CMS/Nextech offers comprehensive preventative maintenance programs. Proper maintenance allows your equipment to operate at peak efficiency, which greatly reduces your overall energy consumption. Listed below are some examples of why preventative maintenance services are important and will benefit your HVAC/R systems.
---
Efficiency
• Reduce energy consumption
• Save money on energy bills
• Less parts breakage and expensive repairs
Dependability
• Extend the life of your system
• Stay protected under HVAC/R warranty
• Prevent costly breakdowns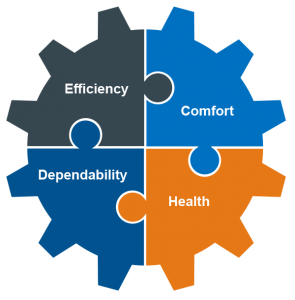 Comfort
• Allows for more productivity at work
• Leads to more job satisfaction and happier employees
• Better experience and overall customer satisfaction
Health
• Minimizes respiratory issues and common allergens
• Safer equipment
• Minimizes irritation and itchy skin
Individualized task lists are sent directly to the technician's iPad, guaranteeing that customer needs are met during each preventative maintenance visit. Our seasoned operations team review every ticket for accuracy and proper completion.
Equipment is audited regularly and updated in our cutting-edge system and submitted directly to the customers for their use, including age, condition, and size of equipment. Issues are found and reported by experienced technicians on-site to prevent small equipment issues from becoming large issues.
Evaluation is completed throughout the year to ensure the best maintenance program is provided based upon building location, traffic conditions, weather patterns, and unit configuration.