Facili-Trac
Internet Based Asset Tracking & Facilities Management System
We provide each of our customers with Facili-Trac, an internet-based software program exclusively designed by the CMS/Nextech development team. This program is designed to assist facility managers in tracking their HVAC/R expenditures and making accurate, reliable capital planning decisions. Facili-Trac allows you to track your progress and stay up to date on work performed from the convenience of your phone or desktop.
Facili-Trac is a valuable tool offered to all
CMS Nextech customers at no additional charge.
How are you currently managing your data?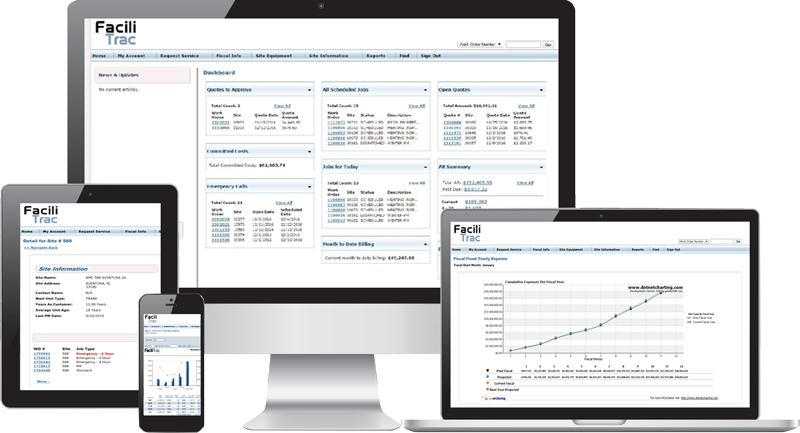 ---
The strength behind our Facili-Trac technology is supported by current and historical data along with individual facility asset information. In addition, up to the minute information from our field technicians along with calls into our data call center are included in your Facili-Trac account. The software then prepares specialized and useful reports to best keep track of your assets and maintenance strategies.
Facili-Trac gives you the ability to track your work site progress and gives you the comfort of knowing your work site is being properly worked on.
---
Functions and Tasks You Can Perform with Facili-Trac
Daily Management
Track progress on work
performed at each site
• Requesting service
• Site lists
• Service history
• Lease information
• Work order status by site
• Invoice per transaction
• Expense summary by site
Executive Planning
Make decisions about capital
replacement projects
• Capital expense forecasting & asset tracking
• Site and equipment information
• ROI software
• Equipment replacement planner
• Total cost versus unit age report
• Unit aging per location summary
• Sarbanes Oxley compliance reporting
Dashboard Functions
Customize the information
you want at a glance
• Committed costs
• Open quotes
• Scheduled jobs
• MTD and YTD billing
• Quotes to approve
• Jobs for today
• Emergency calls
---
Develop a Plan to
Evaluate your HVAC Service Provider